I, today, am going to put the hurt on "science." "Science" may have thought it had the world by the tail, with its constantly changing
what is or is not a planet and then distracting us with Lisa Loeb
, but "science" did not count on the fact that it would continue to run into me, and I have an incredible amount of time on my hands, plus I'm cheap. Those two things, added together, make me more than a match for "science." Those two things, added together, also give me the time and inclination to buy and plant three different trees in my yard in one day, something I could do since the trees cost only
$3.50
each, a bargain price even if you consider that I found those trees lying in a pile at the back of the Wal-Mart garden center (the pile of trees in back of Wal-Mart is where most of your high-end landscapers like to shop) and promptly bought them to upgrade our back yard.
Garden centers are terribly depressing on July 13, and I don't know why. Summer, according to
me
, and I am far more right than "science," goes from June 1 to August 31, so by my calendar, July 13 is only 43 days into the 92 days of summer... summer is less than half over, but go to a store's garden center and they've stopped watering the plants and the trees are all tumbled over and half the space is being used to promote dorm-room-sized futons. Plus, just outside the garden center at this store is the "pet department," where for some reason they had a giant display of little glasses of water each of which, on inspection, contained a very immobile African frog which, the label warned, would get bigger, would like salty water, and would escape from loosely-sealed aquariums. Based on that last warning, I heartily approve of the Wal-Mart African Frog as a pet.
Any decent childhood pet has to have three basic components: One, it has to be alive and n
ot gross. That rules out snakes, which are neither. Two, it has to be able to escape pretty easily, which means that the pet will help bring the family together when the kids come running in and yell
"Mom! Dad! Nippy escaped!,"
which was something we heard every night for about a year when I was a kid and my brother Matt, who back then
hadn't yet started lying about thunderstorms
, volunteered us to take care of the gerbils from his classroom. There were a male and female gerbil, and the male was named "Nippy," in the grand tradition of naming pets after what they do to you if you pick them up. Matt, not paying attention to Nippy's
name
would try to pick Nippy up at a bedtime, would get nipped, and would drop Nippy and then we'd all have to try to catch him and put him away.
The third rule of childhood pets is that they are supposed to die pretty soon after you purchase them. That lets you, as a parent, teach a child about the "Circle of Life," which can best be explained as: "
Mom is pretty sick of having to be the only one to clean this cage.
"
The "Circle of Life" is also a good example of "scientific," i.e.,
wrong and based on pop culture
, thinking. The "Circle of Life" as a concept manages to demonstrate, in a nutshell, both where
Disney lost it
and
science went wrong. The "Circle of Life" is a concept that scientists embrace as a nice, clean expression of how the world works; they ("scientists") boil the complex biology and interrelatedness of the world down, taking millions of years of evolution and biological systems so complicated that they make computers look like... well, like something that's not very complicated by comparision, and they reduce that to:
birds eat bugs, lions eat birds, Elton John keeps remaking that song about candles.
Then they go home for the day and snicker, but never stop to consider how damaging it is to the world, and people, to have so-called 'scientific concepts' based on works of pop culture.
Luckily, the world had me, and I had time on my hands plus a dollar, and was therefore able to be in position to strike a blow on behalf of all of us.
Here's what happened. I was at the library, and was thumbing through the books they have for sale. I was alone today; ordinarily I bring the boys to the library, but I have to be careful because of their escape attempts; the last time we had them both in there, Mr F distracted us while Mr Bunches went running off down the aisles, and we had to become parental version of Tommy Lee Jones in
The Fugitive:
"
Spread out! Cover every book and beanbag chair and rotating rack of comics for a 3-aisle radius!
" I didn't have them there this day, though, which gave me the time to browse in peace through the racks of books for sale for a dollar to see what books I can get the boys or myself.
I don't buy books for the rest of the family. I can't buy books for Oldest, because Oldest doesn't have time to read. She doesn't have time to do
anything
, because of the 40-hour-work week. Oldest considers working 40 hours a week to be a violation of several Constitutional amendments, or she would consider it to be that if she had ever paid attention when I and her school told her about the Constitution and its amendments. As it is, Oldest is pretty sure the 40-hour work week violates
something
, so she makes sure never to commit one.
The Boy only reads
Sports Illustrated
, articles about the upcoming
Batman
movie, and that little ticker on the bottom of ESPN with all the scores.
Middle reads, but reading makes her crabby. She's reading
1984
, and that's a tough book. She asks me to help figure it out, but I read it 25 years ago and didn't like it, so my answers tend to be "
why don't you look it up on a guide on the Internet,"
which is more and more my answer to people today. Back when I was a kid, parents had to make up answers and hope schools sorted it out later. Now, we send kids to the Internet to get the wrong information and hope schools sort
that
out. We've become much more efficient, parentally speaking.
Suggesting that Middle look things up makes her crabby, for some reason, and results in her storming off to watch
Gray's Anatomy.
That's lose-lose from everyone's perspective, so I avoid the topic of books with her.
Sweetie reads voraciously, and I'm using that word in its correct sense: Sweetie reads like locusts eat. Sweetie will get a book and read it in about an
hour
. She did that once, on a weekend getaway we took to Green Bay -- a misguided weekend getaway, since Green Bay exists solely to be a home for the Packers and this wasn't football season, to the entire city seemed closed. Sweetie bought a book by her favorite author, and then read it all in one day. It took me longer, I think, to eat the roast beef sandwiches we'd bought for dinner than for her to read that book. (And, yes, by our standards, roast beef sandwiches and a book count as a romantic getaway.)
So it's just me, and Mr F and Mr Bunches, that I'll buy books for. It's important to keep getting the Babies! books because they are
very
hard on books. They like to turn the pages when we read to them. And they like to turn the pages when we're not reading to them. But they turn the pages violently, as if the pages had taken some action that was a personal affront to them. When reading to them, that makes it difficult because they appear
angry
at the book, turning the page quickly and hitting it sometimes, too. They do that even before I'm done reading the page, so sometimes books go very quickly:
Max was king of all the wild things. He roared. He sailed. His dinner.
The end.
Or they go back sometimes, angrily flipping to a previous page, so we read:
Baby Elmo drinks from a cup. Baby Elmo waves good-bye. Baby Elmo drinks from a cup.
It's like Baby Elmo wasn't quite done, or has OCD.
They also tear the pages out of books and then fight over who gets to run around the couch waving them, the result being that we have a couple of books that no longer exist except as a hollow shell, a cover with no pages. I'm of mixed emotions about all of this. As someone who loves reading, I want them to like books and enjoy reading, too, so I try to encourage their interest in books. But, as someone who loves reading, I want my books to have pages in them. I'm walking a fine line, here.
As I was trying to select books to restock their shelves with, I stumbled on a book called, simply
Dinosaurs:

I took it out and checked to see if had the most important feature: did it cost only a dollar? It did, so I flipped it open to see what kind of dinosaur book it was. After all, I like dinosaurs, and the babies do, too. All kids naturally like dinosaurs, because they are big animals that look cool and could eat Daddy if he keeps making them go to bed.


Dinosaurs, the book I had just found at the library, I concluded was lacking as a kid's book. It had a lot of drawings and photos of dinosaurs and their skeletons, and a lot of printing, but I rejected it as too advanced for the boys and not having certain necessary, highly-educational features like colorful anthropomorphic animals of the sort found in such other technical treatises like How Do Dinosaurs Say Goodnight?, the main dinosaur tome in our house. Books for kids need color and pictures and the like; the boys really prefer to run around the house after each other waving very colorful bits of the former books.

I moved on to the next rack of books. Then it struck me... Dinosaurs was an older dinosaur book. I moved slowly back to the rack, hands trembling, and pulled it off the shelf again.

Longtime readers will remember my groundbreaking, earth-shattering scientific treatise entitled Velociraptors, My Butt. The theory... well, it wasn't a theory, as it turns out, but the at the time it was only a theory, and the theory at the time behind Velociraptors, My Butt was this:

Scientists are big stupid liars who simply make stuff up because it sounds good, including "velociraptors," which, I posited, were entirely-fake animals that had been made up by author Michael Crichton for his Jurassic Park, and which were then so popular that scientists simply decided to say "okay, velociraptors existed," and they slapped together some skeletons and claimed they always existed.

I based that theory on one incontrovertible fact: when I was a kid, I loved dinosaurs, and I'd never heard of "velociraptors." To me, it was inconceivable that they could have existed without me, a 12-year-old reading about dinosaurs, not hearing of them. Ergo, they did not exist when i was a kid. But new dinosaur books, dinosaur books printed after Jurassic Park, always had velociraptors in them. What I needed, I decided, was an old dinosaur book, one made before Jurassic Park.

So I held my breath as I turned to the publication and copyright page of Dinosaurs, and saw that it was published in 1983. Jurassic Park, the book, came out in 1990. This was my chance...

I turned to the index and scanned it... and saw: no velociraptors!

Ha!

Ha!

Ha! Ha! Ha! Ha!Ha! Ha!Ha! Ha!Ha! Ha!Ha! Ha!Ha! Ha!Ha! Ha!

Take THAT, science!

I of course bought the book, trying hard to contain my jubilation, and made my way out to the car. All the way home, I kept looking over at the book and patting it and smiling. If it panned out, I figured, this would become instantly the third-best day in my life. Number one is my wedding day; number two (tied) is each day one of the kids were born. But this would be number three, for sure, replacing even the day I ate at Sonic.

I found that book at the library two weeks ago, and the only reason I didn't write this up earlier is because I, unlike "science," do some actual research, which in this case was to read the book, which, I am extra-extra pleased to note, contains not a single word about velociraptors.
I win.

I am no dummy, though. I know my report here will be controversial. I can't go around taking on "Big Science" without expecting vicious personal attacks on my credibility, things like Hey, reading one book doesn't constitute 'research' or "You're not fooling anyone wearing those baggy shorts, we know you've put on weight." I have been down this road before, after all. So Iwent back to the basics, and I re-reviewed the other scientific treatise I had on dinosaurs.

No, not How Do Dinosaurs Say Goodnight? I am not considering that a "scientific treatise," since that book, while more reliable than Wikipedia, suffers from some deficiencies, most notably this: it never answers the titular question.
If you read How Do Dinosaurs Say Goodnight? you'll see I'm right: you'll end up wondering, well, how do they? The book is simply a series of questions, as it turns out-- it asks, over and over, whether they do this or that or the other thing to say goodnight, but it does not give you an answer, or even a theory, one way or the other about how dinosaurs actually say goodnight.

No, I was going to need something with far more intellectual rigor. I had Dinosaurs, but I needed something equally impressive in the world of academia, and luckily, I had it: one of the best-researched, best-written, most impressive dinosaur texts on the market:
"A Number of Dinosaurs." This book explains the hard-to-understand world of dinosaurs and the complex fossil record through the highly-scientific method of counting pop-up dinosaurs from 1 to 10. On each page are representatives of the dinosaur world -- one on the first, two on the second, and so on up to 10, at which point the book ends, having cataloged and popped-up every dinosaur known to have ever existed.

I went back and read and re-read "A Number of Dinosaurs" over and over, searching for something, anything that would disprove my controversial Velociraptors, My Butt theory, and I can assure you, A Number of Dinosaurs, like Dinosaurs, makes no reference to the famed "velociraptors."

So let's review what we know:

A. Scientists claim that velociraptors were discovered in 1924, or 1971, or sometime. They can't make up their minds about when they were discovered, but scientists maintain that "velociraptors" were, in fact, discovered (and not by Michael Crichton.)

B. Nobody ever, before 1990, heard of a "velociraptor," as has now been conclusively proven by my memory and the hard work of author John Man and his book Dinosaurs.

C. "Velociraptors" are fake,

D. "Science" is bunk, and

E. I rule.



Team Dad: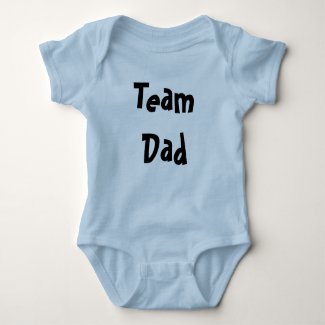 Team Dad
by

brianefp

Get this
custom shirt
at
Zazzle
The Best of Everything: Our Opinions Are Righter Than Yours! Find out what's The Best in any category you can think of, and a lot you can't. Best Simpson Sister? Best Candy Bar to Eat In Sections? Best Plot Twist That Makes a Lame Song Cool? Best Sexy Sci-fi Alien Chick? They're all here—and more!