For some people, the realization that they are old, or out-of-it, or not hip, comes from things like hearing their favorite music on an oldies' station. Or seeing that sports heroes or rock stars are now younger than they are (or, conversely, older than their' parents – like the Stones).
Admit it, if your grandpa put on that
headband, you'd put him in a home

.
For me, it was putting on a stocking hat that made me finally come to terms with the fact that I'm a grown-up. Also, bald. But mostly, a grown up.
I've been resistant to hats, other than baseball caps, for a long time. My resistance probably came from the fact that the hats when I was a kid looked like stocking caps but for some reason had inexplicably large puffballs on top. Like this:
My own hat was a Packer cap, so it had a far
less garish color scheme

.
Only larger. You could feel it catching in the wind when you ran, or walked, and older kids would come up to you and pat you—me – violently on the head while hitting your puffball/pom pom. And, really, what was the point of that accoutrement? It was useless in an emergency, something I found out in the worst possible way, or worst possible way I could imagine back then, anyway.
My worst possible way of finding out how useless the puffball was came in a sledding accident. I used to quite enjoy sledding when I was a kid, among the many other winter sports I enjoyed: Hockey on the swamp behind our house (when we'd test the ice by walking out to the middle in as gingerly a fashion as possible, and, once there, jump up and down and stomp our feet as hard as we could – guaranteeing, I guess, that if we were going to fall through we'd do it at a point as far from shore as possible), snowball fights which usually included at least one iceball to the face, and (my own personal favorite) throwing snowballs at cars from our snowfort at the end of the driveway.
Do kids even do that anymore? So many things have become regulated and organized, now, that I expect that kids don't.
When I was younger, and we wanted to play baseball, we did so with anywhere from 2 to 11 kids and rules like "ghost runner on second" and "hitting the Schroeders' house is an out.") Football matchups took place on a field shaped like a quadrilateral that went from wide to skinny, with a cement path across the middle, and loosely-bounded endzones. Teams had sometimes an even number of people, but as often as not there was an "all-time quarterback" or "no rush" rule. And don't ask about tennis, because the goal there was simply to hit the other person with the ball. (We had tennis courts in the park behind our house, but mostly used them to ride our bikes on.)
Now, my kids go to these activities, and they're hyperregulated. Never mind that most childhood activities have been replaced by soccer now – kids no longer play "kick the can" or "ghost ghost come out tonight," they play soccer – even the remaining sports have been turned into extended endurance opportunities where kids have uniforms, hats, coaches, practices, drills, and no fun. I've spent so much time taking 8 year olds to football practice and 12 year olds to skiing activities that I expect, if kids do engage in the classic snowballs-at-cars, they do so in a league where parents volunteer to drive the Honda Odyssey by slowly and everyone gets a ribbon ("Roundest Snowball!") at the end.
We did not have leagues. We had giant snowdrifts at the end of our driveway. Giant. In my memory, although I know it's probably not accurate, we had much much more snow when I was a kid. Snow started in October and continued nonstop until March, resulting in snowdrifts that were (again, in my memory) at least 10 feet tall at the end of our driveway, the result of shoveling the driveway and snowplows.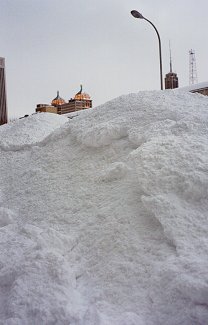 Yep, about like this, only a lot bigger.
I know that this is inaccurate because I also remember clearly that one year on New Year's Day it was warm enough to wear shorts, but the
record high
is only 62 degrees, so I must have been pushing it or misremembering. (Then again, I was a really, really, big kid, so maybe I had enough fat to wear shorts on a regular New Years' Day, and as a favor to myself I've blotted out the fat part and remember only the shorts.)
But leave me with my memories -- edited to remove fatness, maybe-- because I've got more of them than hair now (and more memories than fat, but just barely so, given the fact that we've just finished the Christmas season.) And in my memories, we had these giant snowdrifts that probably were only about 6 feet tall but we were little kids, and we'd spend hours digging tunnels into them and hollowing them out so that from the outside our snowdrifts/snowpiles appeared no different than anyone else's, the end of all driveways being identical on our street. But they weren't! Ours were cleverly hidden bastions of property damage, and we'd wait in there until it grew dark – about 3 p.m. in Wisconsin in the winter -- and then we'd listen for cars to come by, and as they did, we'd hurl snowballs at the cars. And we hit them, and hit them hard! People would stop, they'd honk, they'd yell at us, but it was all to no avail.
One guy, even, got out of his car and threatened to chase us and to come get us. He did that, though, one house down too far, so while he sat outside the neighbors' house yelling and threatening to go to their door, we quickly got out of our snowforts and ran the other way through the yards, until we were two houses down and realized that we were, in fact, running away from home and safety, and began wondering how we'd get back and when it would be safe to go back. Eventually, we did, and waited all night to see if anyone had come to our door. (They hadn't.)
The other unregulated winter activity, as I said, was sledding, and we did that at "the park." The park had a large hill at the top of a series of smaller hills, and had a series of pathways through it (including the aforementioned path that cut across the football field.) There was the First Hill, The Second Hill, and the Third Hill. The Second Hill was largely useless for sledding, as it was too gently sloped. (It was, though, good for the summer activity of riding our bikes, which looked a lot like this:
While I did not have this bike, I did have the
Evel Knievel Action Figure. With the motorcycle
you could rev up. Check it out and be jealous:
but which were nowhere near as cool [mine was yellow with a black banana seat but with actual moto-cross ™ grips.] We'd careen our bikes down the Second Hill at top speed, taking a hard right turn at the end, and try to jump the sandbox, something we could not do under any circumstances and inevitably went over our handlebars. It's a wonder we are not all paralyzed. )
So our sledding was limited to the First and Third Hills. Each had their benefits (or detriments, depending. We were kids; detriments to people with common sense were benefits to us. That's why we sledded, when we could, on a piece of land
everyone
called "Kill Hill.") The First Hill was short, but steep and ended in the road, so if you didn't stop in time, you might just get run over. The Third Hill was steep, but rarely iced over like the First Hill. See, they had those paths that ran up and down the hills, and they'd plow them in the winter, resulting in a slick, icy track that was something like a bobsled run if a bobsled run was flat, slower, and ran through a park. The First Hill, the path went straight down it and you could cruise. On the Second Hill, the path meandered around and, like I said, the Second Hill was generally not sloped enough for good sledding.
The Third Hill, the path ran crosswise down. So you could sled down the snowy side of the Hill, off the path, but if you had a runner sled, like ours, it wasn't much good.
Wasn't much good, that is, until a couple of ice storms had led to the paths being superslick. They were about as close to actual bobsled runs as you could imagine. You couldn't even walk up them; when we took that way to school, we had to walk outside the path even on the Second Hill.
That led me and my younger brother to survey the scene one day. There we stood, at the top of the Third Hill, one of the highest points in our town. We saw the usual sledding routes down the side of the hill, no good for us, and the Path itself. The path could have been used for ice skating. It was tantalizing with its shiny slipperiness.

Except it went the wrong way; it went off to our right, and then joined the path on the Second Hill. But we saw a way: With the slipperiness of the paths, if we could start on the Third Hill, we could use the speed we built up there to curve onto the Second Hill, ride it all the way down, and end up on the First Hill – meaning we'd have the longest, fastest sled ride ever.

We checked it out. Where the Third Hill's path met the Second Hill's was almost a 90-degree angle. The plow had pushed the snow from the Third Hill into a pile on the other side of the Second Hill's path. Our plan, therefore, required us to go careening down the Third Hill, and at the last possible second, execute a 90-degree turn – on a runner sled—without losing speed.

We were sure we could do it. But we had a backup plan. I actually said these words: "If we don't make the turn, we'll just jump the snowdrift."

The snowdrift, by the way, was at least 2 feet high, and was exactly as icy as all the snow around us; it had been plowed that way and then subjected to the icy conditions that made it so tantalizing.

At the last second, we made another fateful decision: We had to increase our potential speed. That meant that we could not sit one in front, one in back, but had to go "double decker," with me (the larger [fatter]) of the two on the bottom, and Brother on top of me, serving no useful purpose other than to increase the weight of the sled as it went downhill. In the complicated world of advanced sled calculus: Heavier = faster.

So we began, and it worked perfectly on the Third Hill; we gained so much speed we could barely see through the tears of cold in our eyes. We saw the turn coming up, saw the snowdrift, and I pulled hard to my left, trying with all my might to steer the sled around Dead Man's Curve. It became apparent we were not going to make it; the sled wasn't even veering to the left, let alone curving.

"Get off," I yelled, and he did, at the last possible second – and all I could do was stick out the hand (my right) that was not, still, trying to steer around that curve, to make it onto the Second Hill with all that momentum, and put my head down and brace.

The pompom did not help at all. I hit that icy snowdrift head on with the top of my head, and I'm still seeing stars. I also broke my wrist, but that was less concerning than the thought that I might have (finally) cracked open my skull, and, based on many many such lectures before, I knew that there was no way I was supposed to go running to my mom. (Cracking my head open being one of many activities [including falling out of trees, poking my eye out, or getting run over] that if I engaged in them, I should not come running to her when the worst happened.)

Not that I could run; I'd hit, for all intents and purposes, an ice wall head on. And maybe the pompom helped a little, because the only thing they treated me for at the hospital (after I'd pulled the brother home, cord wrapped around my broken wrist – pulling him because he'd had the wind knocked out of him when he bailed) was the wrist, even though I was still a little dizzy as they were putting the cast on.

And I can't say that the fact that the pompom didn't protect me more was the sole reason I never liked hats after that. It was probably more a feeling that I looked stupid, and that my hair looked stupid after wearing the hat (note: "hair looked stupid" did not prevent me from spiking it in the 80's and getting a perm in the 90's) and that staticky feeling you get when you wear a stocking cap. But this year, I finally gave in. I told the family I wanted a stocking cap for Christmas.

I couldn't take it anymore. My years of sledding and nearly-falling-into-swamps are well behind me, as are my years of having hair to get staticky, while my years of having my head feel like it's encased in ice are apparently just beginning.

So now, I wear the stocking cap – a Buffalo Bills cap—on any day that's below 60 degrees, and my hair is none the worse for that. And every now and then, I'll look in the mirror, and see the cap on my head, and reflect on just how far I've come in maturity that I'll now wear this rather than come down with cold after cold all winter long.

Or maybe I haven't come that far, because as I reflect on the new cap, I'll think about that plan to get the longest sled ride ever, and I'll think I bet I could make that turn now. Especially 'cause my new hat, without the puffball, is far more aerodynamic.

The song this week? As I continue to think I'll make that turn, I always remember that there are none so blind as those who will not see. Which makes me think of
Helen Keller
by Stylofone

. And it has that great throwback quality suitable for reminescing about your childhood.